CISV Toronto - Write for Rights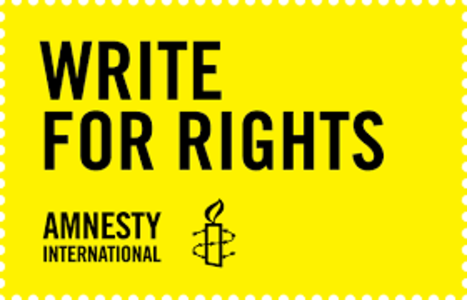 The Junior Board of CISV Toronto will be hosting a Write for Rights workshop to recognize International Human Rights day.
During this get together we will be exploring Amnesty Internationals appeal for "Justice for Grassy Narrows". Amnesty International is highlighting a case right here in Canada, of youth from Asubpeeschoseewagong ("Grassy Narrows First Nation") who are fighting for justice in the face of 50 years of mercury poisoning in their community. Because of government inaction, generations of young Indigenous people have grown up with devastating health problems and the loss of their cultural traditions. It's time for the government to keep its promise to deal with the mercury crisis "once and for all" so that young people can grow up in a healthy and thriving community.
We will learn about this community, get to know some of the youth from Grassy Narrows by watching some video and then learn how to support these youth by writing and / or campaigning online.
Please pre-register for the event. The workshop content will designed for youth ages 10 - 18, but parents and adults are welcome.
12:45 pm - Meet at the Church 2nd floor lobby. Participants are encouraged to bake / or purchase a dessert for Roncesvalles United's for lunch program for people in need.
1:00 - 1:45 - The group will go for a short walk, view the brightly coloured Anishinaabe Woodland style mural by Phillip Cote at the intersection of Roncesvalles and Garden, and have the chance to grab a quick lunch or snack
2:00 - 4:00 Write for Rights Workshop
Starts on
Sunday, 8 December 2019 at 12:45 PM EST
Ends on
Sunday, 8 December 2019 at 4:00 PM EST
Links