Parkdale United Church Write for Rights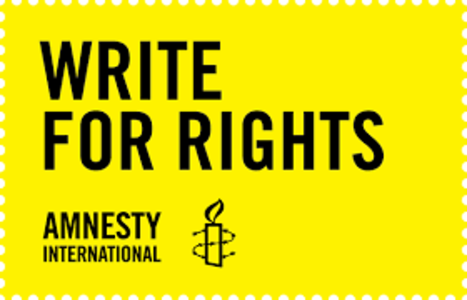 Announcing Parkdale United Church's second annual Write for Rights event. We invite everyone of any age (including children and young people) to write on behalf of the courageous youth defenders chosen for world support by Amnesty International.
We will welcome you with facilitation, descriptions of cases, and coffee and snacks. Whether you can write one letter or stay to write several, please join the world to support the youth who stand up for human rights and are too often persecuted -- whether in Iran, Mexico, Nigeria, Greece, South Sudan, Philippines, China, Egypt, Belarus, and in Canada on the Asubpeeschoseewagong (Grassy Narrows First Nation) where young people are fighting for their water supply and medical assistance in the face of 50 years of mercury poisoning.
Join us at Parkdale United Church to participate in Amnesty International's time-honoured Write for Rights campaign and do your part for justice.
Starts on
Sunday, 15 December 2019 at 12:30 PM EST
Ends on
Sunday, 15 December 2019 at 3:30 PM EST
Parkdale United Church - Ladies' Parlour, second floor
429 Parkdale Ave
Ottawa, ON, K1Y 1H3
Canada
Get Directions
Links